Last Updated on December 4, 2021 by Katie Barton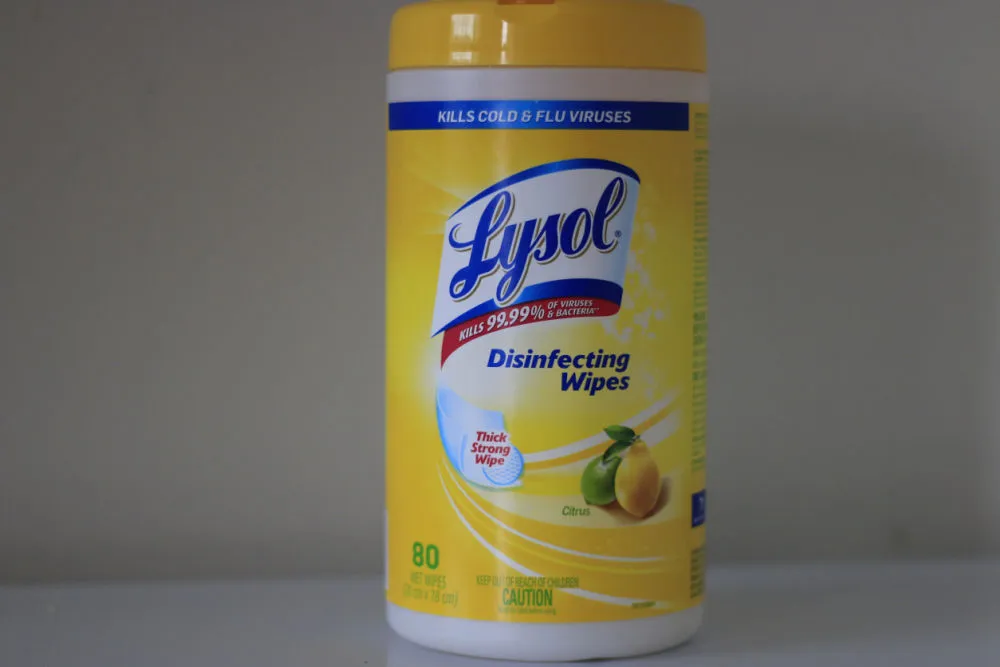 Quartz counters are one of the most durable natural stone choices. That's because today's quartz is partially engineered – made by combining roughly 95% quartz stone with 5% polymer resin.
And since quartz isn't porous, you can use many different types of cleaner on it – including disinfectants. Here's what you need to know about quartz and Lysol wipes.
Can You Clean Quartz with Lysol Disinfecting Wipes?
Yes, you can clean your quartz counters with Lysol disinfecting wipes. These disinfecting wipes are bleach-free and safe for all non-porous surfaces.
Since disinfectants are harsh cleaners, you may not want to use them on your counters every day, but for an as-needed disinfectant, they are completely fine.
Per Lysol's website, when cleaning food-related surfaces, wipe down the area with a disinfecting wipe, allow it to sit for at least one minute, and then wipe away with a fresh, damp cloth.
If someone in your family has been sick, and you're trying to kill viruses, you need to allow the cleaner to sit for at least two minutes before wiping it away.
What are the Best Cleaners to Use on Quartz Counters?
For an everyday cleaner, choose something mild. Dish soap and water or Mrs. Meyers are both suitable cleaners for Quartz counters.
To disinfect, you can use Lysol disinfecting wipes or Clorox wipes – both are bleach-free.
You should avoid using bleach, vinegar, Windex, or acidic-based cleaners on your quartz.
Is Quartz Naturally Bacteria Resistant?
Quartz is non-porous and antimicrobial, which means bacteria can't grow on it. But, of course, that doesn't mean bacteria from your chicken, for example, won't land on quartz – it just means it won't spread or have anywhere to hide. 
With quartz, you can wipe away germs with a rag and soapy water. 
Final Thoughts
If you need to disinfect your quartz countertops, it's completely safe to use Lysol disinfecting wipes. Lysol wipes don't contain any bleach. 
However, since Lysol wipes are more of a harsh cleaner, it's best to save them for when you really need a disinfectant and use a more mild cleaner for daily messes.
Photo: ©mynewturtle/123RF.COM
Katie Barton is the owner of Cabin Lane. She's also a home improvement writer for Bob Vila and Homedit. Her cleaning and organizing advice has been featured on Realtor.com, Yahoo News, GoBankingRates, and more. In her spare time, you can find her with a paintbrush in hand, searching for her next project.