Last Updated on March 6, 2023 by Katie Barton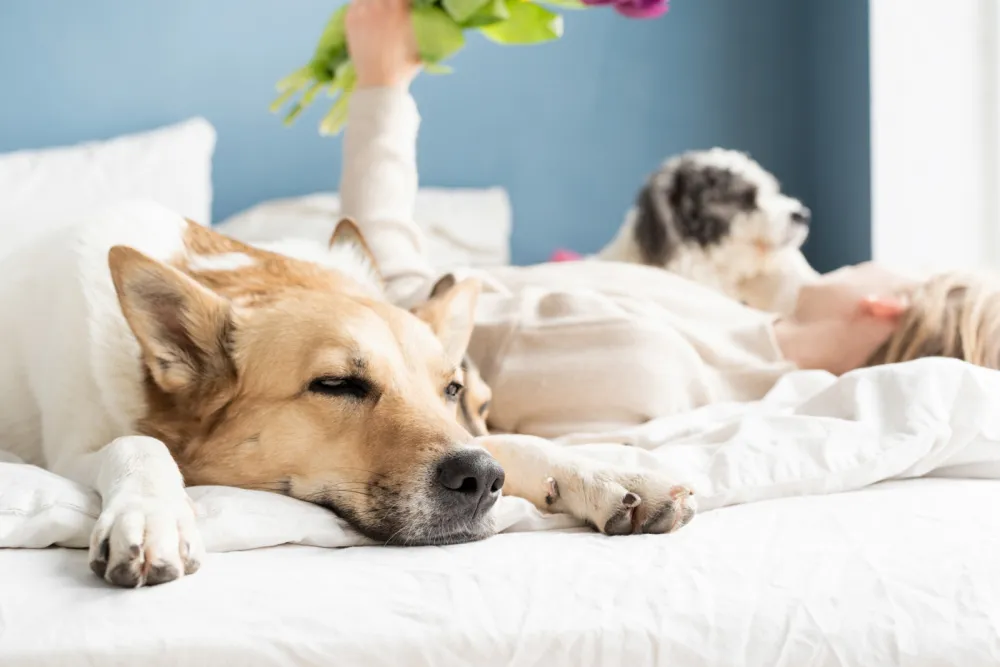 There's nothing worse than rolling over to find a big spot of urine next to you. While every pet owner has dealt with urine stains and smells at some point, having them on a mattress is one of the worst spots.
Fortunately, with the right products and techniques, you can eliminate new and old dog urine stains from your mattress. Here's how.
Supplies You Need to Remove Dog Urine Stains and Smells
Enzymatic cleaner (I like Rocco and Roxie, it's color safe and works on flooring, mattresses, and furniture.)
Old cloth or paper towels
Baking soda 
Note: Check the manufacturer's label on the enzymatic cleaner to ensure it's safe for your type of mattress. Most are mattress-safe, but you want to be sure.
Removing Fresh Dog Urine (Still Wet)
If your dog just had an accident on the bed, remove your sheets and blankets, grab a paper towel or old cloth, and blot up as much urine as possible. Once you have blotted all the excess moisture, sprinkle a liberal amount of baking soda over the affected area to absorb the urine and remove some odor.  Allow the baking soda to sit for a few minutes before vacuuming it off the mattress. 
For the final step, spray an enzyme-based cleaner on the area, allowing it to penetrate the mattress. Follow the manufacturer's instructions, which usually require waiting 30-60 minutes before vacuuming the area. The enzymes in the spray will feast on the bacteria from the pet's urine, eliminating it instead of masking it.
Wash and dry your blankets and return them to the bed once the urine spot is dry.
How to Remove Dried Dog Urine Stains and Smells from Your Mattress
Dried urine stains are more difficult to remove than fresh ones, but not impossible. Your best bet is to use an enzymatic cleaner. The natural enzymes break down the proteins found in urine, removing the source of the smell.
While each enzymatic cleaner contains slightly different directions, these are the general steps for removing dried urine stains and smells from a mattress:
Remove sheets and blankets
Spray a liberal amount of your enzymatic cleaner on the urine stain so that it penetrates several layers deep.
Place a cloth over the area and lay a heavy object on it (like a stack of books) to help wick away the excess moisture.
Once the area is dry, vacuum it. 
Inspect for smells and stains, and repeat the process if necessary
Will Vinegar Get Rid of Dog Urine Smells from a Mattress?
When cleaning urine off a mattress, vinegar isn't the most effective approach. 
Dog urine is composed of complex compounds which are better broken down with enzymatic cleaners that "eat" at the bacteria. While vinegar can somewhat neutralize dog urine, it won't completely eliminate the smell or stains on a mattress. Vinegar is better suited for cleaning urine off of hard, non-porous surfaces.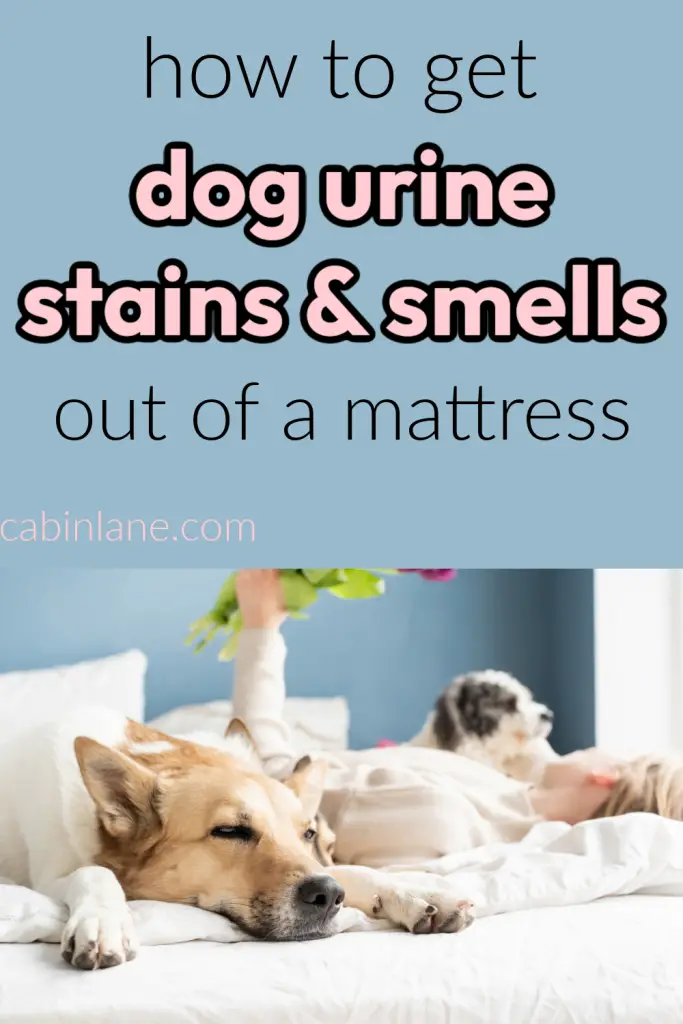 Katie Barton is the owner of Cabin Lane. She's also a home improvement writer for Bob Vila and Homedit. Her cleaning and organizing advice has been featured on Realtor.com, Yahoo News, GoBankingRates, and more. In her spare time, you can find her with a paintbrush in hand, searching for her next project.