Last Updated on November 11, 2022 by Katie Barton
There are so many cleaning products on the market that finding the perfect scent is challenging. Maybe this one is right for you? Find out in our Mrs. Meyer's Orange Clove Scent Review.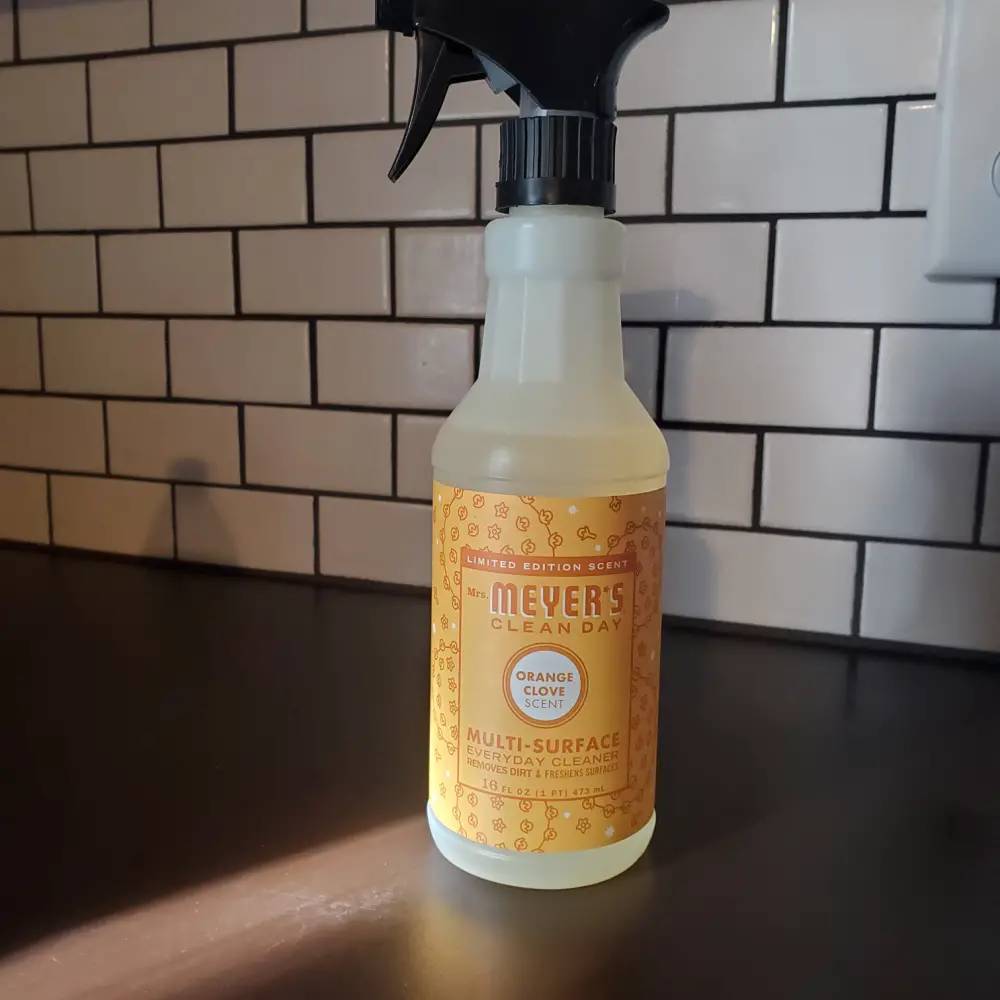 I'm testing Mrs. Meyer's seasonal scents and reporting back with my honest opinions. If you like the smell of potpourri or clove, you'll love this one.
Mrs. Meyer's Orange Clove Scent Review
According to Mrs. Meyer's website, Orange Clove is a spicy citrus scent – I agree.
It smells like a pot of potpourri with orange slices and cloves. It's my second favorite scent from the holiday line. (Peppermint holds strong in first place.) 
Orange Clove is my 13-year-old daughter's top pick out of ALL the cleaners in our home. She uses it to clean her bedroom and bathroom.
To be fair, I have one minor complaint about this scent – at first spray, it smells wonderful. But, as it starts to evaporate, it leaves behind a slightly perfume-like smell.
On a scale of light to overpowering in terms of fragrance, this one is light.  
If you're looking for a more fragrant option, try Iowa Pine or Snowdrop.
How it Cleans
The multisurface spray in the orange clove scent cleans well. I've used it in the kitchen, bedroom, and bathroom. It's safe for all non-porous hard surfaces.
Where to Buy
You can purchase the orange clove scent from Mrs. Meyer's at Amazon, Target, Walmart, and the Mrs. Meyer's website.
You can get this scent in the multi-surface spray, room freshener, candles, liquid hand soap, and dish soap. Unfortunately, it doesn't come in a cleaning concentrate.
Who This is For
If your grandma sat out bowls of potpourri and you'd love them, you'll like this cleaner. It's not overpowering and has the perfect amount of clove in it.
Katie Barton is the owner of Cabin Lane. She's also a home improvement writer for Bob Vila and Homedit. Her cleaning and organizing advice has been featured on Realtor.com, Yahoo News, GoBankingRates, and more. In her spare time, you can find her with a paintbrush in hand, searching for her next project.