Last Updated on February 15, 2021 by Katie Barton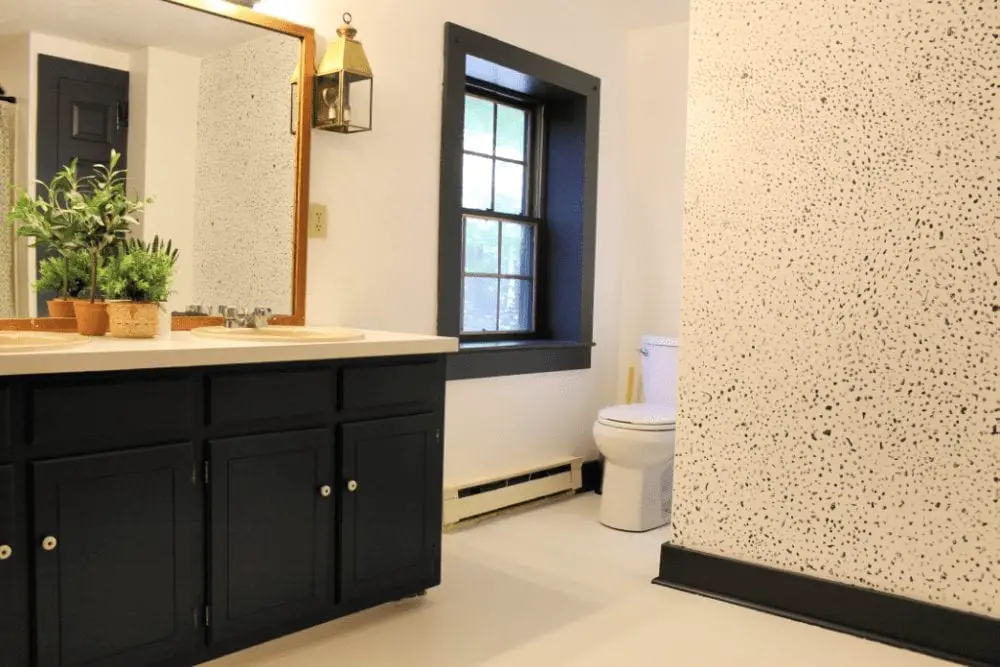 A couple of months ago, I decided to give my kid's bathroom an update. And in my true nature, the update consisted mostly of painting things?
I painted the cabinets.
The countertops were painted with chalk paint!
I painted the linoleum floors.
My girls and I even did a cool accent wall.
And, of course, I painted the walls and trim.
It was a lot of painting and one super cheap bathroom upgrade. But today I want to talk about painted linoleum floors.
Painted Linoleum Floors: Before and After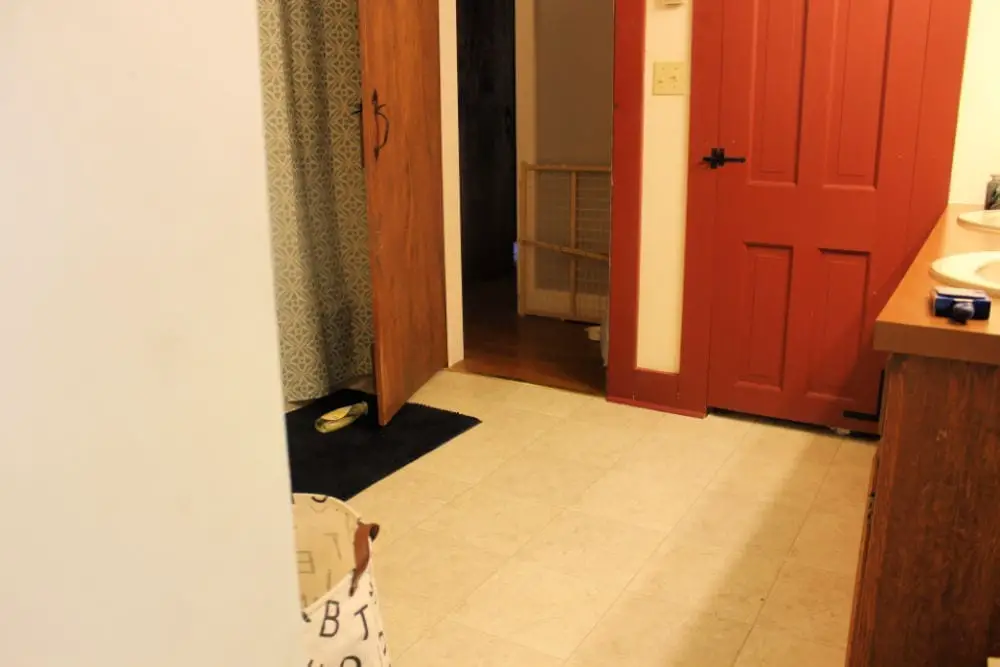 My kid's bathroom was very dingy and dirty feeling. After seeing a few people on Instagram painting their linoleum floors, I knew I wanted to give it a try.
I purchased a Valspar porch and floor paint in white from Lowes.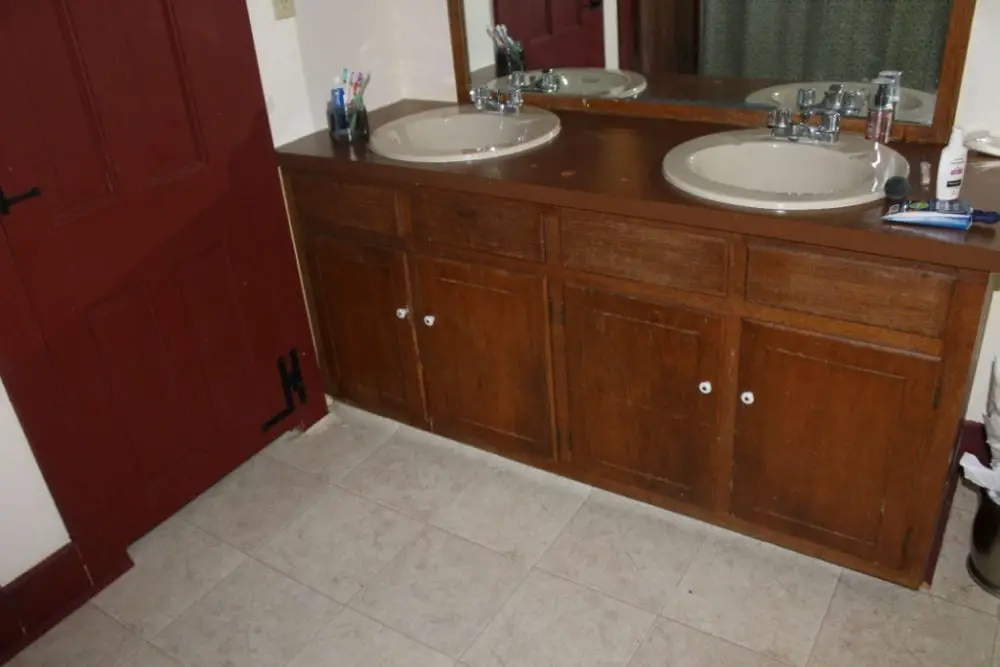 How I Painted the Floors
I lightly sanded the linoleum with a sand block. Next, I swept and mopped the floor really well.
When the floor was dry, I taped off all the trim and prepared to paint.
I started by used a paintbrush to paint the outer edges and then went back and used a regular nap roller to paint the rest of the floor.
I did a total of three coats, waiting 24 hours between each coat.
Here's the result: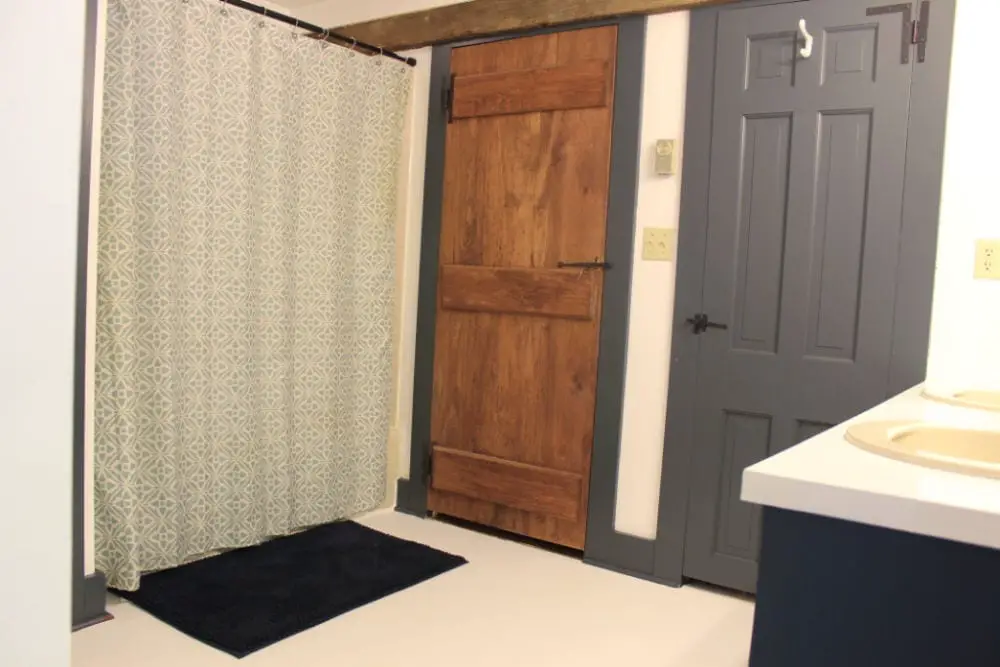 The Pros and Cons of Painting Linoleum Floors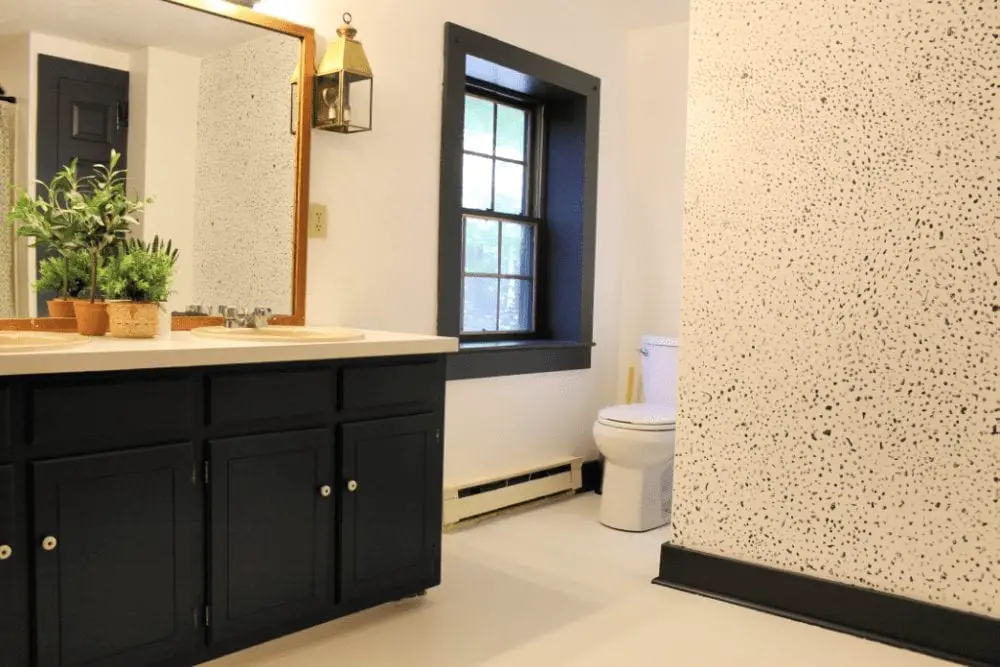 Pros
Super cheap – The only thing I had to purchase was the floor paint. Of course, if you don't already have paint supplies on hand, you'll need those. I used painter's tape, a paint tray, a paintbrush, and rollers.
Easy to do – If you can paint, you can do this. There's no special trick to it. It's easy.
Can touch up – If the paint peels in a section or gets dirty beyond being able to be cleaned, you can touch it up or repaint.
Cons
The floor shows dirt very quickly – As one would expect, white paint shows dirty very well. Which, in a kid's bathroom, means it gets dirty fast. The good thing, though, is that it cleans right up! I use my regular mop with an all-purpose cleaner in it, and that does that job.
If you use a darker color or use a stencil, your floor won't show as much dirt. I had originally planned to stencil the floor but ended up loving how the white looked all on its own.
It takes 2-3 days to complete – Since you need to wait for the paint to dry in between coats, it may take you 2-3 days to fully finish the paint job.
Our bathroom rug caused divots in the paint job – This is the one actual con for me. Our non-slip bath mat caused some lines and divots on the floor. Obviously, you can't tell with the bath mat in place, but if I ever wanted to swap for a smaller one, it'd be a problem.
Would I Do it Again?
Absolutely! I'd 100% do it again and would recommend anyone with dingy, ugly linoleum to give it a try. It's a very cheap and easy project with high impact.
In fact, my bathroom looks completely different, all thanks to paint.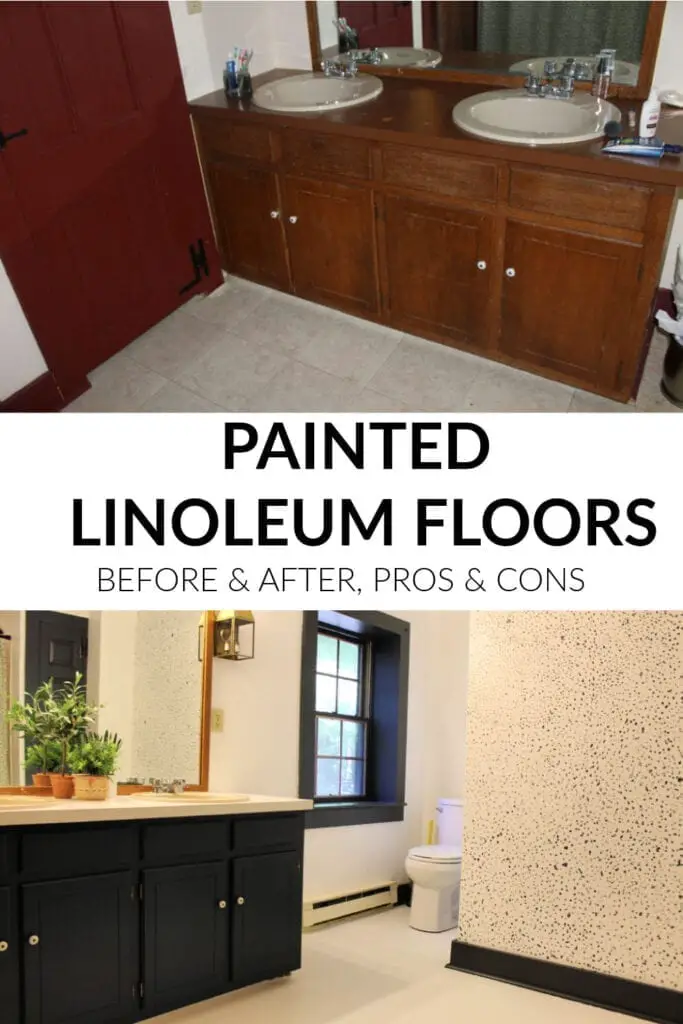 Katie Barton is the owner of Cabin Lane. She's also a home improvement writer for Bob Vila and Homedit. Her cleaning and organizing advice has been featured on Realtor.com, Yahoo News, GoBankingRates, and more. In her spare time, you can find her with a paintbrush in hand, searching for her next project.