Last Updated on June 13, 2023 by Katie Barton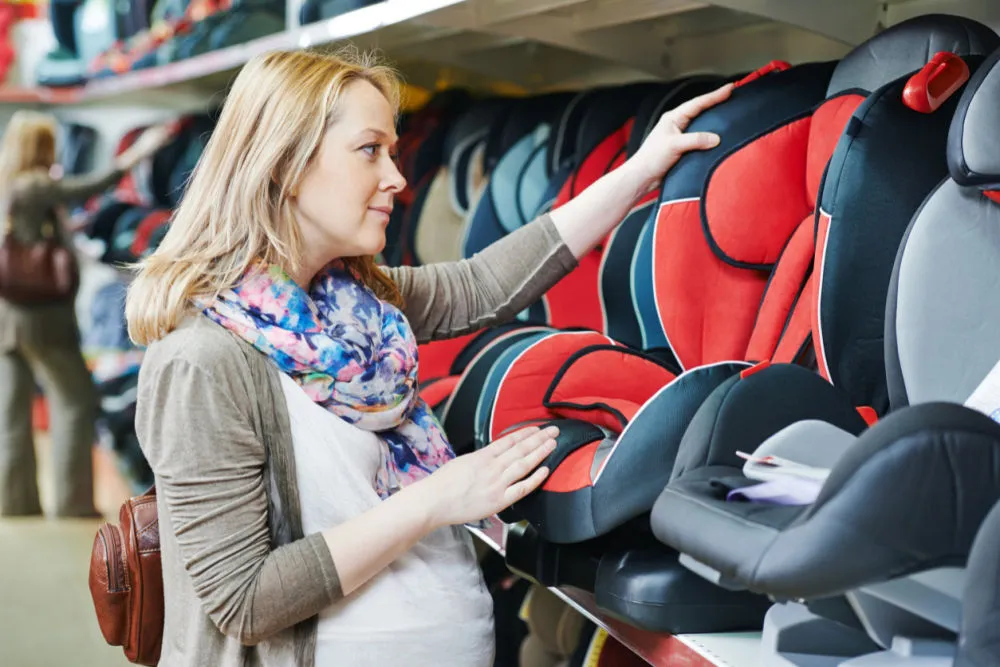 If your baby has recently grown out of her car seat and it's still in excellent condition, you're probably ready to donate.
Especially if you paid a lot of money for the seat and barely got to use it.
While donating a car seat is a great idea in theory, car seats are much harder to donate than other baby items because of safety issues.
Still, there are a couple of options.
Here's where to donate a car seat and other good options for getting rid of it.
Before You Donate: Car Seat Checklist
Most charities don't accept used car seats because of liability issues. So, before you hand your child's outgrown car seat to anyone else, you need to make sure it's safe to use.
The car seat is not expired. Most car seats expire 6-7 years after the date of manufacture. While this number might seem like a total hoax – it's not.
Car seats have expiration dates because their materials can wear down over the years. So, before you donate, check the expiration date on the back of the seat.
The car seat has not been involved in a traffic accident. If you've had a traffic accident and your car seat was in the car (even if not occupied), it's no longer safe. 
In this case, you'll need to recycle or trade it in.
The car seat is fully functioning. This is probably a given – but if your car seat is missing pieces, doesn't buckle properly, etc., do not give it away.
The Top Places to Donate Your Car Seat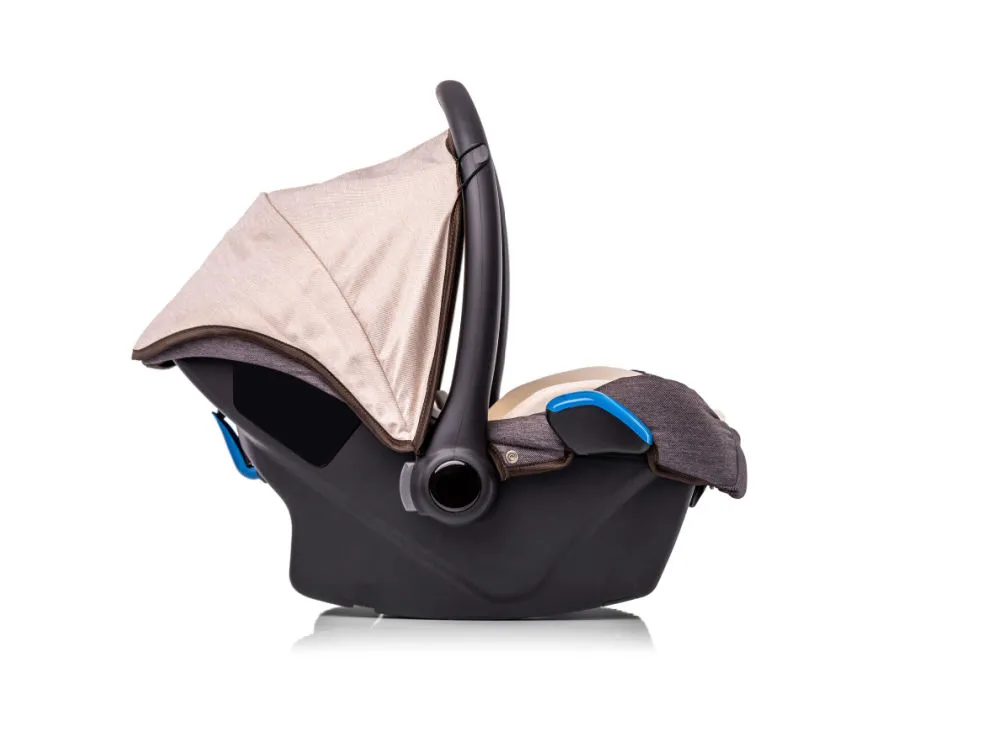 If you've determined your car seat is still in great shape and not expired, then there's no reason not to pass it to someone else. 
Unfortunately, most large charities and thrift stores won't accept your used car seat due to safety and liability issues. Instead, these are the best places to donate:
Family or Friends
The most obvious place to start is with your family and friends. If you don't have any friends or family members with small children, post the car seat on your Facebook page and let your friends and family share the post.
They may have contacts who will be happy to take the seat off your hands.
Freecycle and Other Free Groups
Freecycle is a site that revolves around members giving and requesting items they no longer use, for free. This not only helps save the environment but saves members money and helps them clean out their homes.
To see if there's a local chapter available to you, visit Freecycle and search for your town. If you find your town, create a posting of the car seat.
 If you have any takers they can do a porch pick up or you can meet them somewhere.
Local Charities and Churches
While a lot of bigger charities won't accept car seats, smaller local charities might. You can check with churches, homeless shelters, women's shelters, and your local job and family services.
Obviously, rules will vary from place to place. But a lot of these places – especially women's and homeless shelters may love to have your old car seat.
How to Trade In a Car Seat
Here's some good news: If you can't find a place to donate your car seat, you can participate in a trade-in event. 
During a trade-in event, you can bring in your old car seat for recycling and receive a discount coupon or gift card in exchange.
The two biggest stores that offer this are Walmart and Target. These events usually happen once a year so you'll want to keep an eye out for future dates.
How to Recycle a Car Seat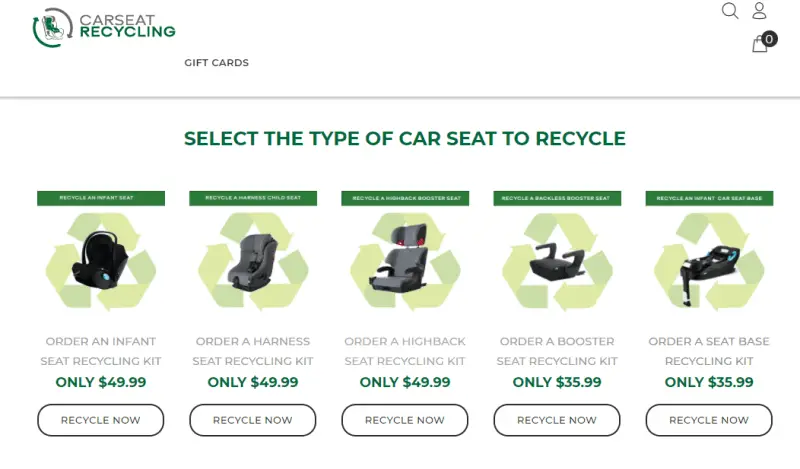 If you're itching to get rid of your car seat and don't want to wait for a trade-in day, no problem. You can still recycle it. 
However, unless you can find a local recycling solution, it's going to cost you. Here are two car seat recycling programs you can check out:
Car Seat Recycling – This company will recycle your old car seat regardless of its make or model. It isn't free, though. 
You'll pay a fee ranging from $36 to $50, depending on the type of car seat you have. Then, they'll send you a recycling bag and packing label. When you receive it, all you'll need to do is pack up your car seat and drop it off at a UPS store.
TerraCycle – If you have a lot of baby gear to recycle, you can go with TerraCycle. For $116, this company will send you a collection box that you can fill with the baby gear you no longer want or use. After filling the box, simply send it back with the prepaid return label.
Frequently Asked Questions
Can you donate car seats to the Salvation Army?
No, the Salvation Army does not accept used car seats. However, they take other baby items like clothing, toys, and blankets.
Can you donate car seats to Goodwill?
Goodwill does not accept used car seats. This is because of safety and liability issues.
Where can I donate a stroller?
There are tons of great places to donate a stroller. You can try Goodwill, local charities, VVA, and free groups. See a complete list here.
Final Thoughts
If you have a car seat still in excellent condition, that's within its expiration date, and has never been in an accident, then giving it away is fine.
Most big charities and thrift stores won't accept car seat donations because of liability issues. However, you can still find local charities or community members who will be happy to have your in-good-condition car seat. If not, your best bet is saving your seat and bringing it to Walmart or Target on a trade-in day.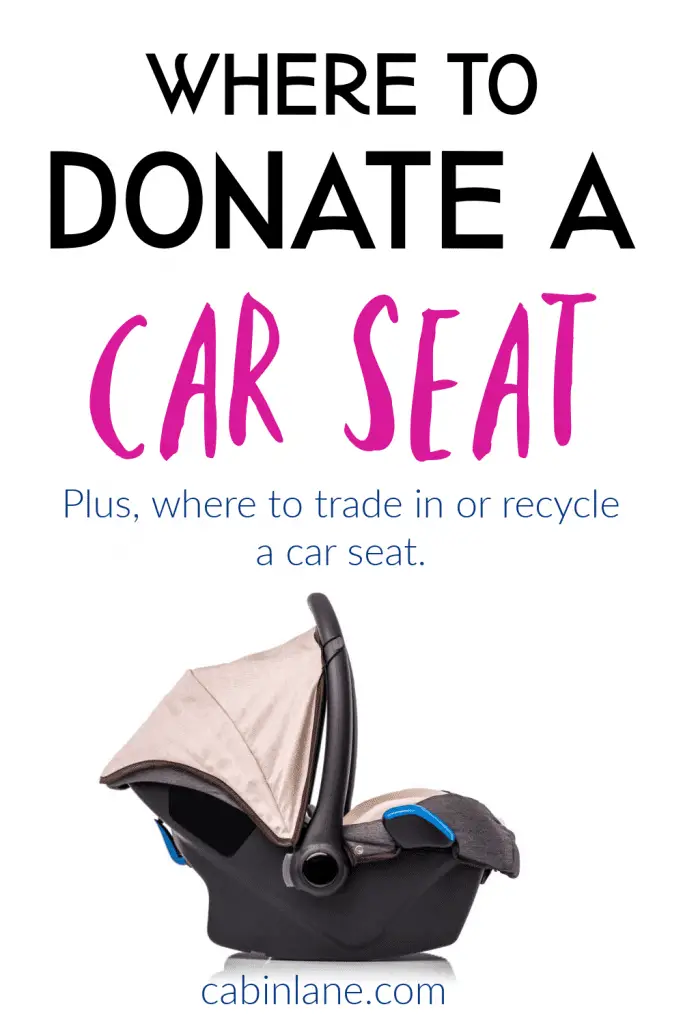 Katie Barton is the owner of Cabin Lane. She's also a home improvement writer for Bob Vila and Homedit. Her cleaning and organizing advice has been featured on Realtor.com, Yahoo News, GoBankingRates, and more. In her spare time, you can find her with a paintbrush in hand, searching for her next project.