Last Updated on December 14, 2021 by Katie Barton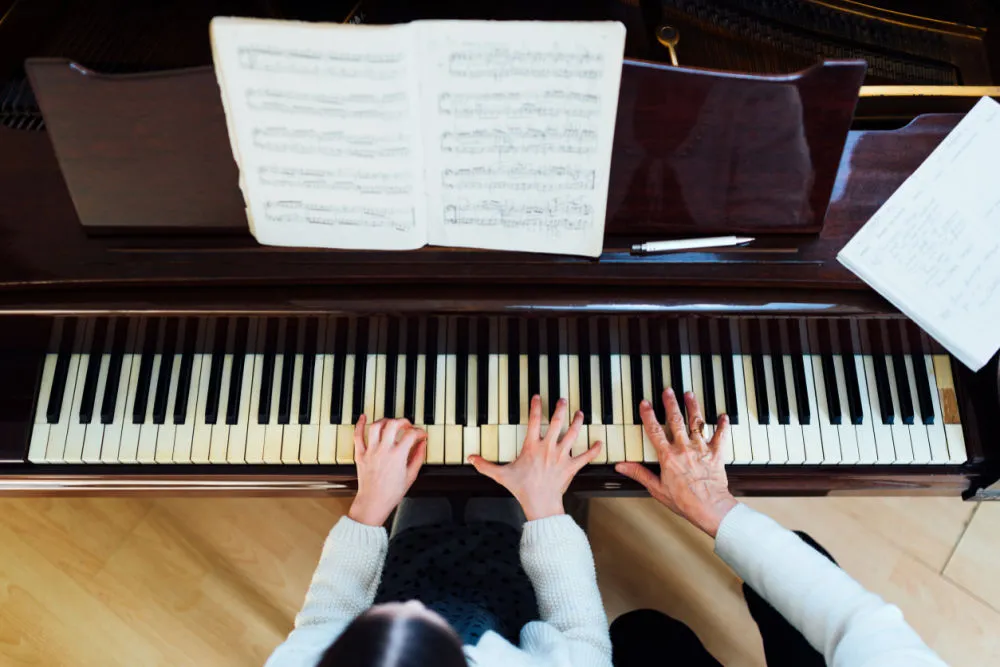 If you have a piano you don't want or use, you might think getting rid of it would be hard.
It turns out it's not. Many organizations are more than happy to accept the donation of your old piano.
Here's where to donate your old piano so that it benefits someone in need.
Top Places to Donate a Piano
The Beethoven Foundation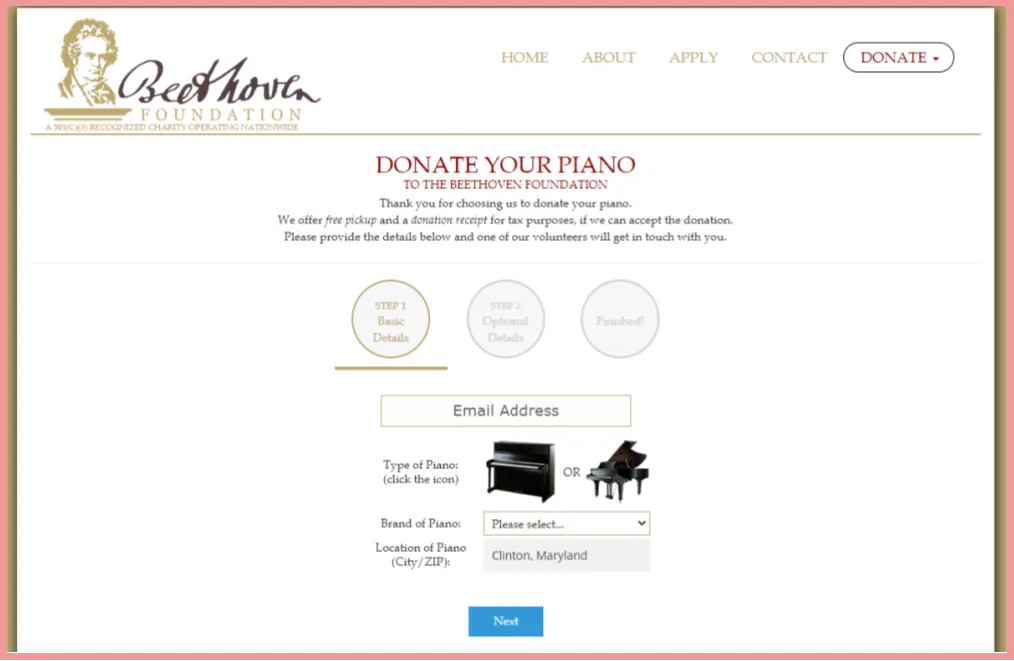 Website: Schedule a Piano Pick Up from the Beethoven Foundation
Where: Nationwide
The Beethoven Foundation gives instruments to aspiring musicians who otherwise cannot afford them. They operate nationwide.
When you visit the Beethoven Foundation donation page, they will ask you for some basic info about the piano. Then, you can upload pictures and input any problems or notes you'd like. Once you submit your information, they'll contact you for pickup.
Your piano will go to someone who needs it in your area. However, if there's nobody locally on the piano request list, The Beethoven Foundation will sell your piano and use the money to fund a scholarship for a musician.
When someone from the foundation picks up your piano, they'll provide you with a tax write-off receipt.
Pianos for Education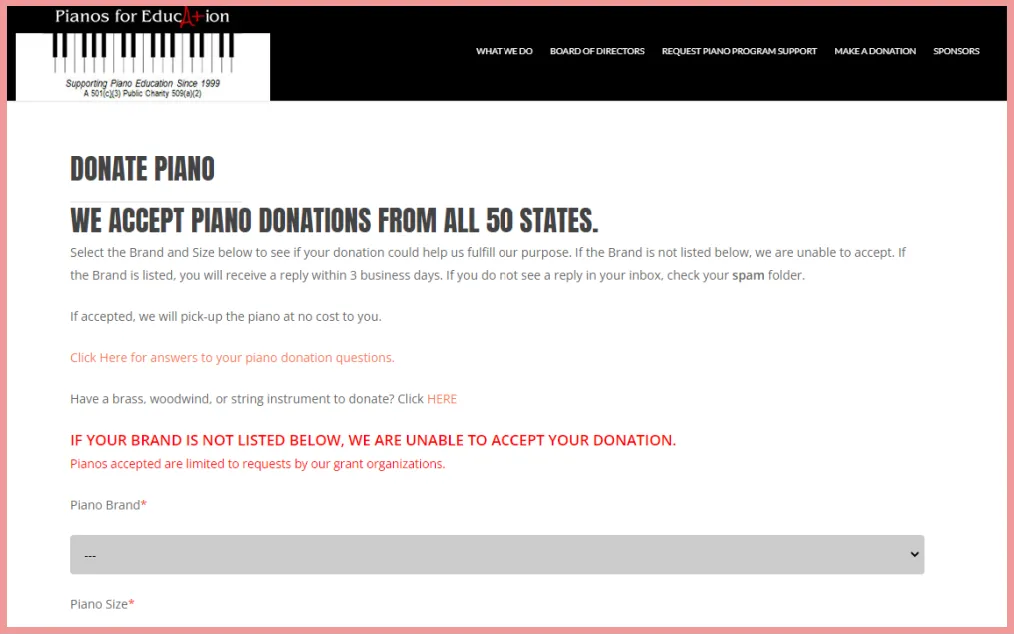 Website: Donate to Pianos for Education
Where: Nationwide
Pianos for Education is a nonprofit that loans pianos to organizations, schools, and piano teachers who need them.
Pianos for Education accepts piano donations from all 50 states.
You can visit their donation page and fill out basic info on your piano to see if they'll accept it. If your piano qualifies, they will schedule a pickup. After pick up, you'll receive a tax donation receipt.
Piano Finders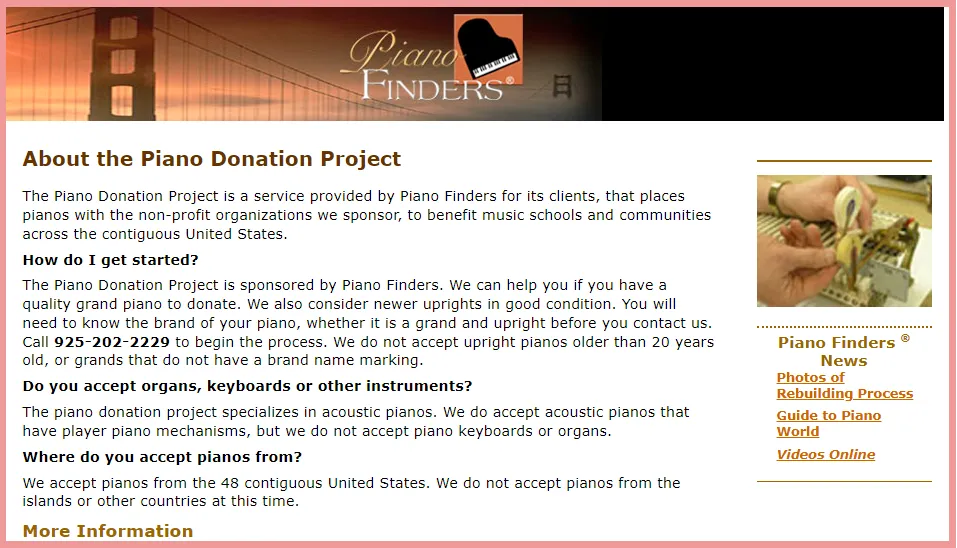 Website: Donate a Grand Piano to Piano Finders
Where: Nationwide
Piano Finders accepts donations of pianos and gifts them to music schools and community centers across the country. They accept acoustic pianos but do not take keyboards or organs.
If you want to donate your piano, you'll need to call Piano Finders. You'll need to know the make and year of your piano as well as its condition. The receptionist will tell you if there's a need in your area, and if there is, they can arrange a pickup.
Society of Unique Artists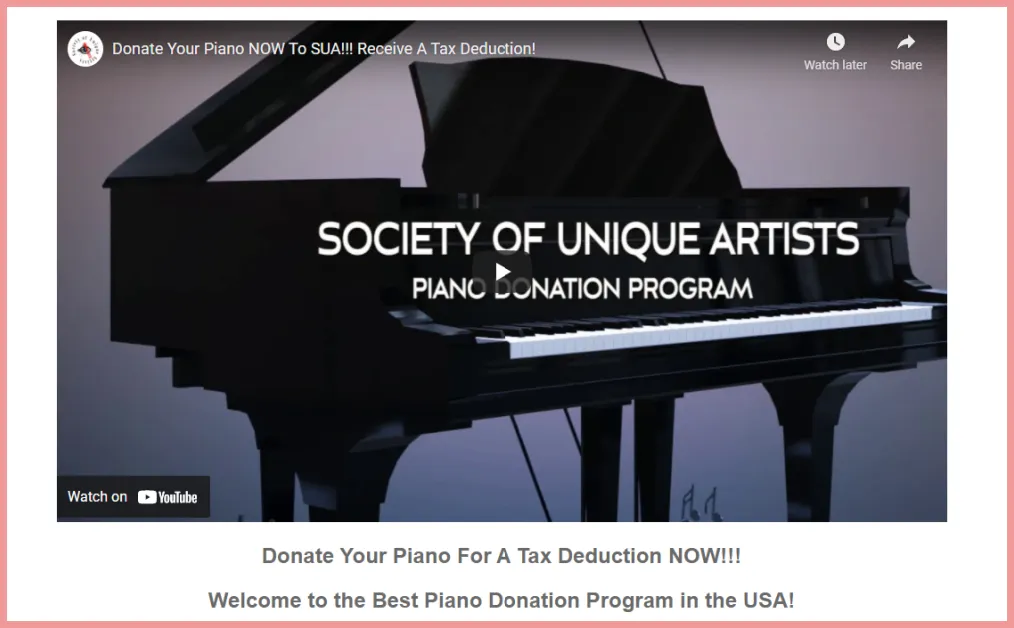 Website: Donate to Society of Unique Artists
Where: Nationwide
The Society of Unique Artists is a nonprofit that has accepted pianos since 2004. When you donate a piano, they'll match with someone in need or sell it and use the profits to promote their up-and-coming artists.
Once you submit your piano's info to them, they'll assess it and let you know if interested. If interested, they'll have professional piano movers come to your house and pick it up.. (No charge to you, of course.)
You'll receive a tax write-off receipt for your donation.
Generally speaking, they look for pianos no more than 30 years old.
The Music Guild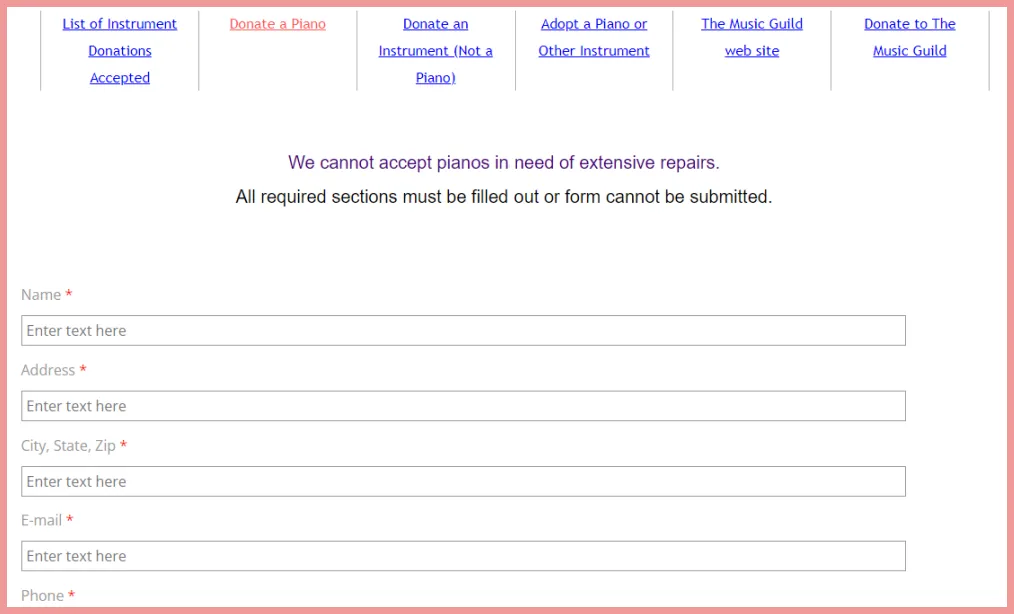 Website: Donate an Instrument to the Music Guild
Where: Los Angeles, CA
The Music Guild runs a piano adoption service in the greater Los Angeles area. They'll accept pianos and other musical instruments in good condition and match them to someone in need.
To donate to this organization, you'll need to fill out some info on your piano and upload pictures. Then, if someone wants to "adopt" it, they will make moving arrangements. The recipients will pay the moving expenses.
Keys 4/4 Kids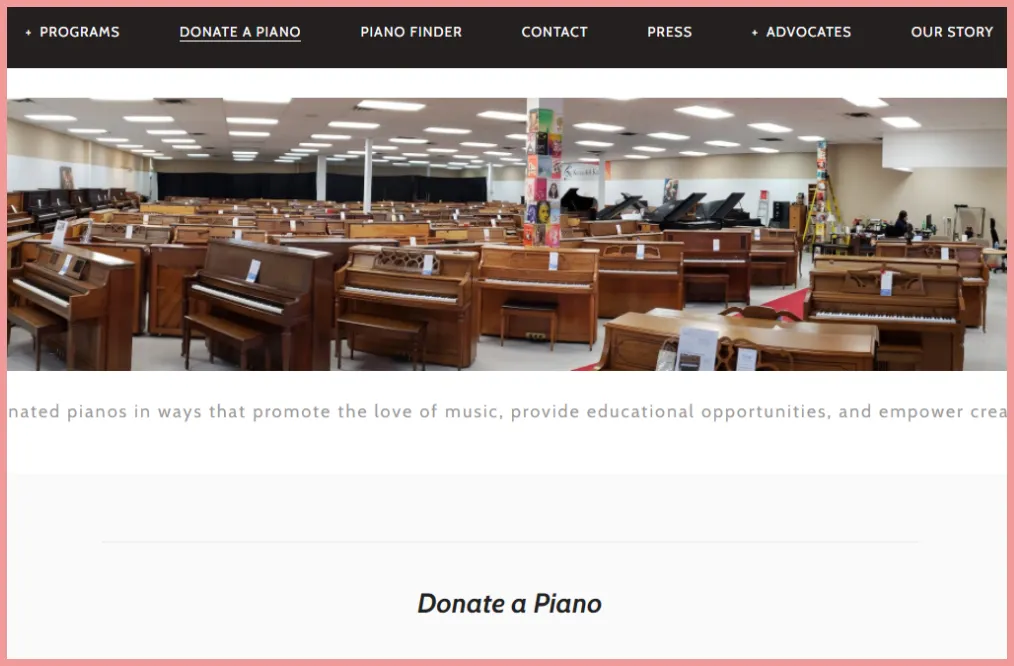 Website: Donate to Keys 4/4 Kids
Where: Minneapolis/St. Paul, MN
The Keys 4/4 Kids program is a great organization to donate to if you live near Minneapolis. They accept qualified pianos, even making minor repairs when necessary. Then, they'll place your piano with a low-income family, community center, or school.
To see if your piano qualifies for the program, visit their website and fill out the questionnaire. If they accept your piano, you'll receive an email with scheduling information.
Donate Directly to a Community Member
Another way to send your piano to a good home is to donate it to a community member. You can do this by sharing the piano's info on your Facebook page, Facebook Marketplace, Craigslist, or Freecycle.
You can also ask friends and family. They may know someone who genuinely needs a piano but can't otherwise afford to buy one.
Donate to Community Centers or Schools
If you want a guarantee that your piano stays in your community, contact local musical schools, public schools, and community centers to see if they have a need.
Of course, to accept your piano, it will need to be in working order and not have a lot of wear and tear.
Frequently Asked Questions
Does Habitat Restore accept pianos?
Even though ReStores mainly want donations of building materials, furniture, and appliances, some accept pianos. However, since not all ReStores will want a piano, you'll need to call your local branch before dropping off or scheduling a pickup.
Does Goodwill accept pianos?
I checked with several Goodwills, and none of them accepted pianos. While each Goodwill can set its own rules, it's doubtful that you'll be able to donate a piano to Goodwill. Instead, you're better off donating to a music-related charity like the Beethoven Foundation.
How do I dispose of an old piano?
It's hard to get rid of an old piano that's in bad condition. This is because pianos are so heavy and oversized that they're difficult to move and require lots of manpower to lift. Your best bet is calling the local dump and getting their recommendations. If they don't take your piano, you may need to call 1-800-GOT-JUNK. 
Another option is to dismantle the piano and dispose of it in pieces.
Final Thoughts
If you wonder where to donate your old piano, you have many options as long as it's in good condition. Generally speaking, if your piano is 30 years old or newer and has been taken care of, you shouldn't have a problem unloading it.
You can contact any of the nationwide piano donation services to schedule a pickup. Alternately, you can keep your piano close by donating to an at-need individual or community center.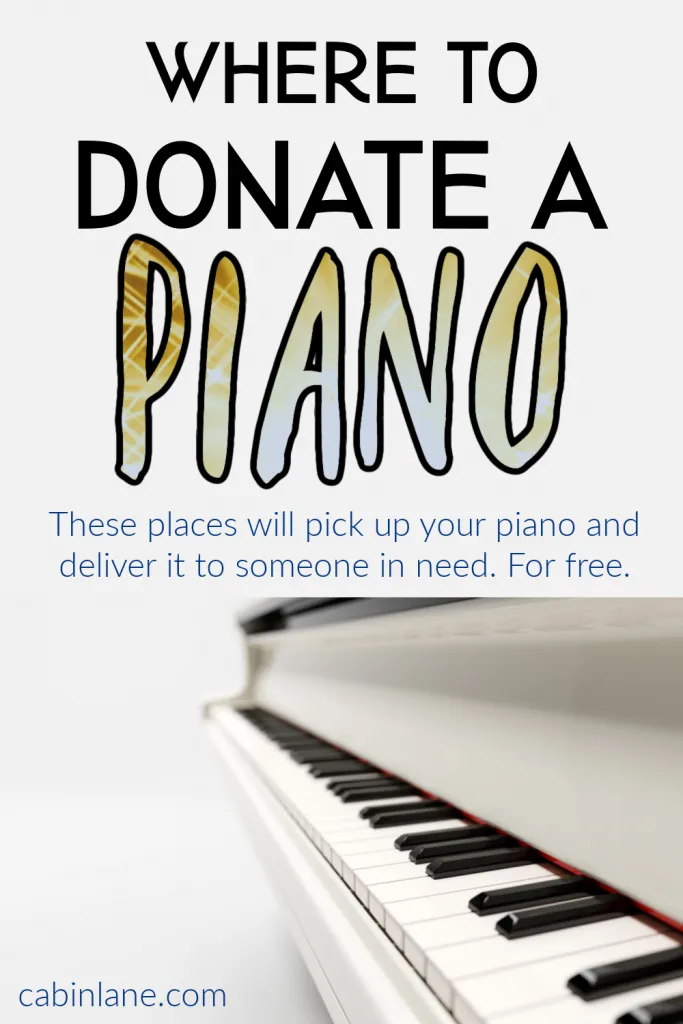 Katie Barton is the owner of Cabin Lane. She's also a home improvement writer for Bob Vila and Homedit. Her cleaning and organizing advice has been featured on Realtor.com, Yahoo News, GoBankingRates, and more. In her spare time, you can find her with a paintbrush in hand, searching for her next project.