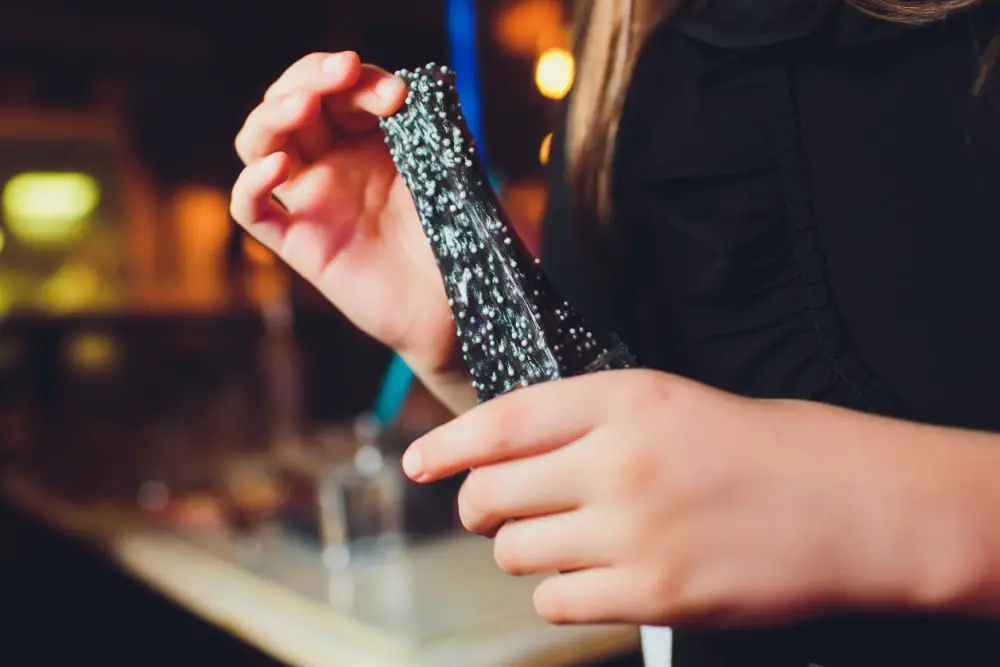 Silly putty is a cheap and easy way to occupy a kid.
But, like slime, it's prone to get mashed in the carpet, which is never fun.
If you've discovered silly putty stuck on your floors, don't freak out. It's relatively easy to get out, and you probably already have the stuff to do it.
Here's how to get silly putty out of carpet.
How to Get Silly Putty Out of Carpet
There's only one real way to get silly putty off of carpet – and that's to scrape it.
However, before you get to scraping, you can use ice to make the job easier.
Using ice will take an hour or two but is one of the most effective methods for getting stubborn silly putty out of the carpet.
Here's what to do: 
Fill a large Ziploc bag with ice cubes
Cover the stuck-on putty with the bag of ice. Allow it to sit for 60 minutes or so.
Check to see if the putty has completely solidified. If the putty is still wet, keep the ice bag on for a while longer. (Refill with fresh ice if needed.)
Once fully hardened, scrape the putty away with a blunt plastic knife or a bank card.
After scraping, use a vacuum to remove any loose particles.
How to Remove Stains Left Behind by Silly Putty
After clearing silly putty from the carpet, you may be left with a stain. You can use one of these methods to treat it.
Use Nail Polish Remover OR Rubbing Alcohol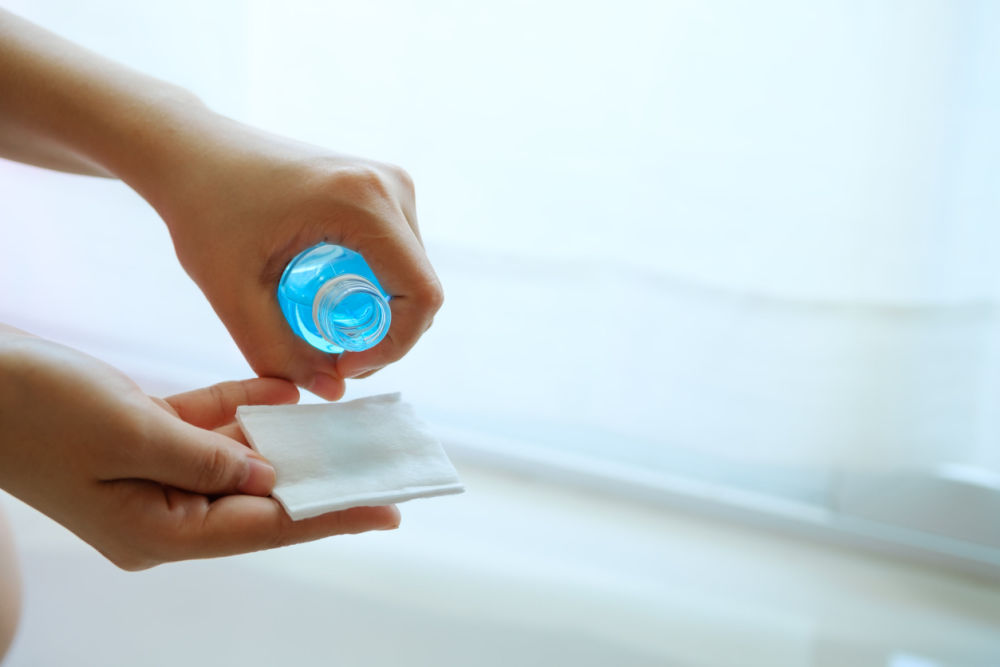 After you've picked and cleared away as much silly putty as possible, you can use nail polish remover or rubbing alcohol to get the rest out.
Follow these steps to clean your carpet using nail polish remover:
First, soak a cotton ball or a tiny towel in nail polish remover or rubbing alcohol. (Pick one, don't use both.)
Gently wipe the silly putty with the cotton ball until you've covered the area with the solution.
Once the solution has hardened the remaining pieces of the silly putty, scrape them off the carpet using a knife or a card.
Vacuum and then wipe the area with a wet soapy cloth. This will prevent the nail polish remover or rubbing alcohol from staining the carpet.
TIP: To make sure nail polish remover or rubbing alcohol won't negatively affect your carpet, do a spot test. Put a couple of drops of the cleaner you plan on using in an inconspicuous spot and let it sit for ten minutes. If there is no discoloration after ten minutes, you're good to go.
Try Diluted Laundry Detergent
If you have liquid laundry detergent on hand, here's how to use it to clean a silly putty stain:
In a bowl filled with hot water, add a couple of teaspoons of liquid laundry detergent and mix.
Soak a cotton ball with the solutio and blot the putty stain.
Allow at least 20 minutes for the laundry detergent to break down the stains.
After twenty minutes, blot the stained area with a dry cloth until the stain disappears
Finally, rinse the area with a rag dampened in water.
If the stain persists, repeat the method a few times.
Remove Stains from Light Carpet with Hydrogen Peroxide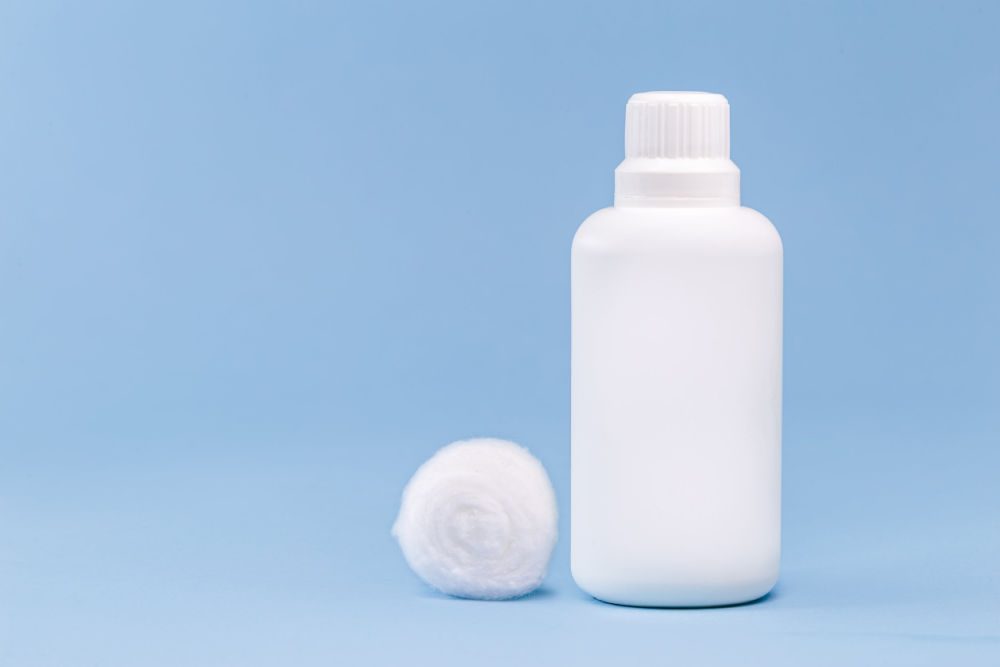 If your carpet is very light or white, you can use hydrogen peroxide to bleach the stains. (Do not use hydrogen peroxide on dark carpet – it WILL lighten it.)
Here's what to do:
Combine one tablespoon of hydrogen peroxide and two cups of warm water in a spray bottle.
Spray the stain and allow it to sit for 15 minutes
Then gently dab the stain with a dry cloth 
After removing the stain, wash the carpet with soap and warm water to remove any leftover hydrogen peroxide.
Frequently Asked Questions
How do you remove hard, silly putty from the carpet?
Hard silly putty is the easiest to scrape away. Use a butter knife or credit card to gently scrape as much as possible. After scraping it, vacuum the area and use rubbing alcohol or laundry detergent to treat the leftover putty and stains.
Is it possible to get Silly Putty out of a carpet using regular vinegar?
Yes, you can use vinegar to remove silly putty from your carpet. But before you do, test a small spot to check for adverse reactions. If no stains or lightening occur after ten minutes, you can use a combination of water and vinegar to clean silly putty.
What Is The Best Way To Get Silly Putty To Dissolve?
If none of the natural methods for removing silly putty work, you can dissolve it with a petroleum-based substance. For a store-bought solution, Goo Gone and WD-40 are good choices.
Is Rubbing Alcohol Harmful to Your Carpet?
No, rubbing alcohol is not harmful to carpets and shouldn't damage them. However, you can exercise caution with a spot test. To spot test rubbing alcohol, put a few drops on your carpet and let it sit for ten minutes. If there's no discoloration after ten minutes, you're good to go. 
Final Thoughts
No parent likes to find silly putty stuck in the carpet or crayons on the wall. Fortunately, silly putty is not hard to get out. (And it could even be a job you designate to a kid.)
Start by hardening it with ice and gently scraping it with a butter knife or credit card. Once it's scraped, vacuum the area and treat any stains with rubbing alcohol or laundry detergent.
Katie Barton is the owner of Cabin Lane. She's also a home improvement writer for Bob Vila and Homedit. Her cleaning and organizing advice has been featured on Realtor.com, Yahoo News, GoBankingRates, and more. In her spare time, you can find her with a paintbrush in hand, searching for her next project.