Last Updated on November 20, 2021 by Katie Barton
Besides back to school and New Year's, no other time has me wanting to purge my house quite like the month before Christmas.
Maybe it's because I know my house will be overrun with an influx of gifts.
Or, perhaps it's because this time of year is so busy that there's less time for regular house cleaning and upkeep.
Either way, I do know one thing – organizing your home before Christmas is a great way to kick off the holiday season. And if your kitchen is a mess, or you'll be hosting holiday get-togethers, it's the perfect room to start.
Here are the top ten products to organize your kitchen before Christmas.
Use Clear Bins to Organize Everything
If you've watched any TikTok or Instagram reels, you've probably seen refrigerators full of clear, acrylic bins. And while these bins are excellent for the fridge, you can use them for EVERYTHING.
I use these for my kid's snack cabinets, to group different cleaners together, and even for canned goods. Since these bins are clear, they make for the perfect kitchen organizers, and you can find them in any size you need.
Transfer Frequently Used Foods to Clear Canisters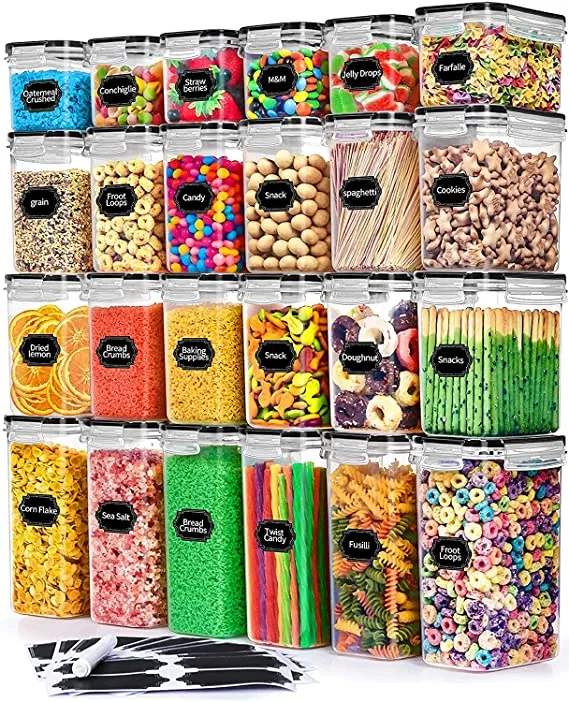 Clear containers are the best for food storage – they allow you to see how much of something you have left and enable even young kids to locate what they need.
With that said, I don't think you should put all of your pantry goods in canisters.
Use these canisters to organize food that you eat on repeat. For instance, if you always buy the same brand and same kind of pasta, use these. The same goes for cereal, oats, and baking supplies.
On the flip side, if you're always trying new products, then these probably aren't worth the splurge.
Take Advantage of Lazy Susans
If you're working with a small kitchen or small pantry, lazy susans will be fantastic for you. These small rotatable trays are perfect for holding spices, condiments, or extra supplies you have in your pantry.
If you're short on storage or sick of having to move everything around to access something in the back of your cabinet or fridge, give one of these a try.
Make Use of Your Door Space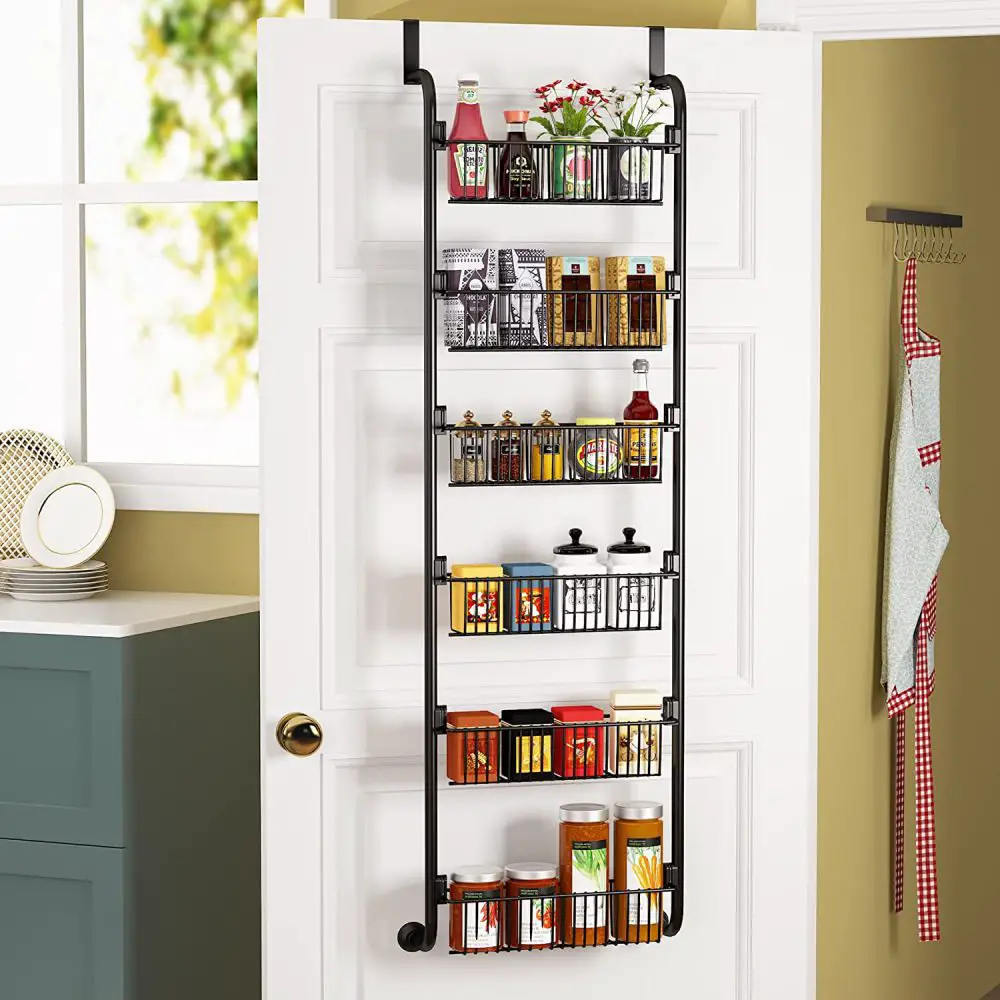 At my last house, my kitchen was tiny. I'm talking like four cabinets total, which was about enough space to store pots, pans, and Tupperware.
For everything else, I had to get creative and use every spare inch of space I could. So if you're in a similar situation or just running out of room in the pantry, try one of these over-the-door organizers. 
You can use this to store extra cans or use it as a spot to put cleaners, trash bags, etc.
Put Your Utensils in a Crock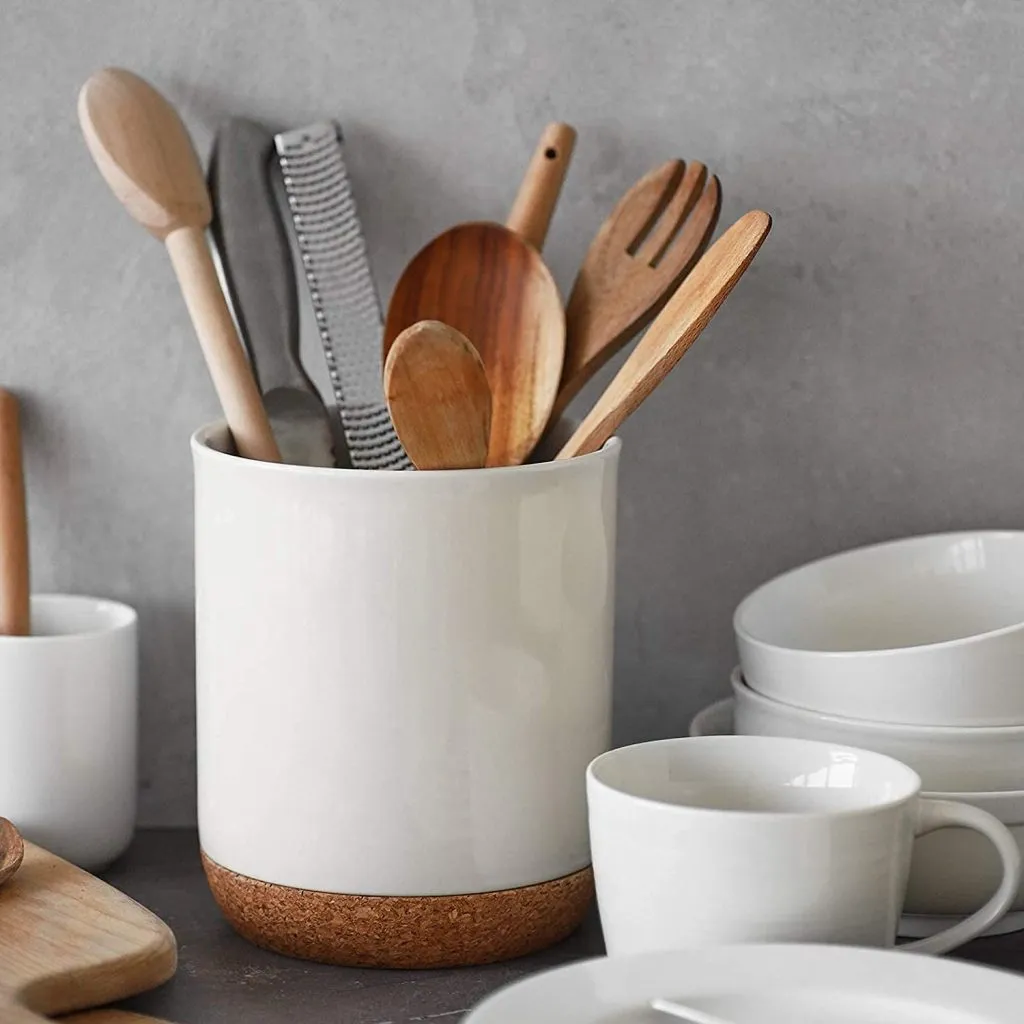 If you're constantly struggling to pull the cooking utensil you need out of a crowded drawer, try a crock. Placing a crock beside your stove with your most-used spoons and spatulas is far more convenient than reaching into a cluttered drawer.
Plus, pretty crocks like these also double down as decor.
Organize Your Drawers with Dividers
While I'm a sucker for pretty acrylic drawer organizers, I find that they aren't entirely practical for a kitchen. Instead, drawer dividers are a much better option.
With drawer dividers, you can create custom-sized sections within your drawers to fit your needs. They'll help you keep all of your belongings in their zone for super easy organization.
Keep Christmas Treats Fresh with a Cookie Jar
Cookie jars are another piece of functional decor for the kitchen. Not only will these jars keep all of your freshly baked holiday cookies fresh, but you can find one to fit in with your decor.
If you like minimal or farmhouse decor, the one pictured will work perfectly. However, you could also kick up the holiday spirit and go for a Christmas cookie jar.
Beautify Your Dish Washing Supplies
I think most of us would agree that bottles of dish soap, while necessary, aren't very attractive. Try this set if you're looking for a pretty way to keep your soap, sponge, and dishwashing brush together.
This soap dispenser is highly-rated and made of resin rather than cheap plastic. It has a marble pattern and can go with just about any type of kitchen decor.
Make Your Pans Easy to Access
Tell me if this has ever happened to you – you reach in your cabinet to grab a frying pan, but the one you need is on the bottom of the stack, you pull and pull, and then BAM – every pot that was on top is now on the floor.
It's happened to me more than I care to admit.
If your pans, cookie sheets, or cutting boards are a source of organizational frustration, try these simple racks. These can help you keep all of your cooking tools easy to reach and organized. As a bonus, these are pretty inexpensive.
These pot racks are one of my favorite products to organize your kitchen.
Invest in a Water Bottle Organizer
This last list item is something I didn't even know existed 20 min. ago and is now in my shopping cart. If you have kids with a large selection of water bottles that are too tall to stand in the cabinet, you can feel my frustration through the screen.
Water bottles are almost impossible to keep organized when you have to lay them flat. This shelf is the perfect solution.
Conclusion
If you're gearing up for the Christmas season, the kitchen is a great place to start decluttering and organizing – especially if you plan on hosting holiday dinners.
These ten products to organize your kitchen products all solve genuine problems in the kitchen. Choose the ones that speak to you and enjoy an organized and clean kitchen for the holiday season.
Katie Barton is the owner of Cabin Lane. She's also a home improvement writer for Bob Vila and Homedit. Her cleaning and organizing advice has been featured on Realtor.com, Yahoo News, GoBankingRates, and more. In her spare time, you can find her with a paintbrush in hand, searching for her next project.